SOUTHERN CROSSING
RACE RESULT
Site Navigation Back to Racing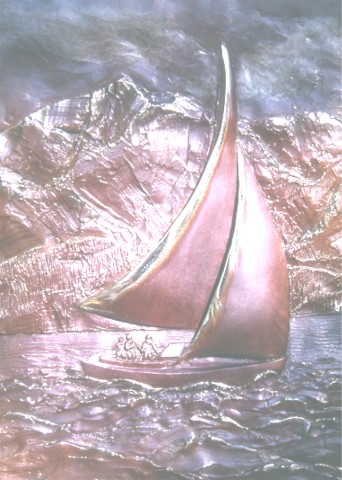 Perpetual & First Overall Trophy
(Bronze Sculpture by David Foster, Lake Tahoe 2003)
NOTICE OF RACE
LAKE TAHOE WINDJAMMERS YACHT CLUB
2005 SOUTHERN CROSSING
The Lake Tahoe Windjammers Yacht Club cordially challenges you to participate in the annual "Southern Crossing" yacht race. The race is scheduled for Saturday June 25, 2005. The warning signal for the first class will be at 11:00 AM with a finish cut-off time of 10:00 PM.
ORGANIZING AUTHORITY:
Lake Tahoe Windjammers Yacht Club
South Lake Tahoe, CA
Race Chair: Kurt Rasmussen 530 541 1129 rasmo@charter.net
Debbie Noorda 530 541 3516 noorda@sbcglobal.net
Entry Requirements:
The race is open to all single hulled racing and cruising yachts with an overall length of 19 feet minimum, whose owners or charterers are members of a yacht club recognized by the United States Sailing Association (USSailing).
Entry fees:
The entry fee for the non-spinnaker fleet is $50 and the spinnaker fleet is $55 for USSailing members, $60 for non-members. With your paid entry you will receive Sailing Instructions and two tickets to gourmet brunch at the trophy presentation to be held at The Cantina restaurant on Emerald Bay Road on Sunday June 26.
Registration:
Entry forms can be mailed to: WYC, PO BOX 8527, South Lake Tahoe, CA 96158. Mailed entries must be received before June 24. There will be a Registration and Skippers meeting at the entrance to Tahoe Keys Marina at 9:AM June 25, 2005. Late entry forms will be accepted at that time. Visiting boats may drop off skipper or raft up briefly near the harbormaster office (leave someone on board capable of moving the boat and don't block the gas dock). T-shirts will be available at Registration and at Trophy Presentation.
Check In:
All boats will be required to check in by VHF (channel 68) between 10:00 and 11:00 on the morning of the race.
Rules:
The race will be governed by the rules as defined in The Racing Rules of Sailing, this Notice of Race, the Sailing Instructions and the Southern California PHRF ratings for racing and cruising yachts. The willful discharge of liquid or solid waste into the waters of Lake Tahoe is prohibited.
Handicap Ratings:
Southern California PHRF handicaps will be used to score the race on a time on time basis. For the cruising fleet, the PHRF handicap will be adjusted according to the rules outlined in the Southern California PHRF rules.
Classes/Divisions:
The racing will be divided into two fleets with divisions within each:
Spinnaker Fleet –
A, B and possibly C divisions will be decided depending on entries.
Non-spinnaker Fleet –
There will be one division with first, second and third prizes.
Minimum Safety Equipment:
All yachts at a minimum shall be equipped with safety equipment as required by the current US Coast Guard requirements. In addition each yacht shall have:
A "Life Sling" type throw able device and a boarding ladder that extends at least 15 inches below the water line when mounted
A marine VHF radio (portable or fixed) capable of transmitting and receiving on channels 16, 22, and 68.
An auxiliary engine (inboard or outboard) with enough fuel aboard to power for a range of 15 miles minimum
Racing Area and Courses:
The NOAA Chart 18665, Lake Tahoe, covers the race area. The start and finish for both fleets will be in the vicinity of Coast Guard mark "O" in front of Tahoe Keys. Courses are subject to change or shortening – see the Sailing Instructions.
Spinnaker Fleet - The course will be approximately 28 nm. The general course will be: Start (Tahoe Keys), Rubicon Bay, Cave Rock, DW mark, Edgewood, Finish (Tahoe Keys).
Non-spinnaker Fleet – The course will be approximately 17 nm. The general course will be: Start (Tahoe Keys), Rubicon Bay, Edgewood, Finish (Tahoe Keys).
The specific description and coordinates of each rounding mark will be in the Sailing Instructions. There will be a time limit for finish. Any yacht that has not finished by 10:00 PM will be scored DNF. Any boat withdrawing from the race must notify RC by VHF channel 68.
Trophy Presentation:
Trophies will be given in all divisions of both classes. They will be presented at the brunch held at The Cantina on Sunday, June 26. Each Yacht participating receives two tickets for brunch. Additional tickets may be purchased with your application for $15.
Boat Launching and Slips:
Boat slips, trailer storage and launch hoist is available at the Tahoe Keys marina (tel.530 541 2155)
For further information and assistance call Kurt Rasmussen at 530 541 1129 (Email: rasmo@charter.net ).