Lake Tahoe Windjammers YC
WYC
The Lake Tahoe Windjammers Yacht club, first established in 1968 as the SOUTH TAHOE SAILING CLUB. Gary Chase was named Commodore. It was than formally incorporated as the the WINDJAMMERS YACHT CLUB in 1974. The Officers of the club that signed the corporation papers were: Pete Carrau Commodore, Dick Beck Vice Commodore, Dave Deutch Rear Commodore, Art Smith Treasurer, and Marion Smith Secretary. Jim Hildinger paid his dues as member # 1.
In 1997 the club changed itís name to LAKE TAHOE WINDJAMMERS YACHT CLUB and the corporate status to a Nonprofit Public Corporation and is operated exclusively for charitable purposes within the meaning of the internal Revenue Code Section 501 9 c) ( 3). The Windjammers YC is a member in good standing of the USSAIL and the San Francisco Yacht Racing association (YRA).
The primary purpose of the WYC was, as it is today, is the promotion of sailing, sailboat racing and sailing instruction on the South Shore of Lake Tahoe. The club has an active racing and cruising fleet and a well-rounded junior training program.
The club sailing activities on the lake usually begin in May and end in October. The first meeting of the year is usually held in March.
The WYC racing calendar offers a wide variety of around the buoy and point-to-point races as well as the traditional Wednesday night beer can races. The highlight of the racing calendar is the 26-mile long "SOUTHERN CROSSING" race usually held around the end of June. The course takes the participants back and forth the Southern portion of the lake, in the shadow of the snow covered 10,000-foot Mount Tallac. The cruising fleet calendar usually offers at least one club cruise per month to popular destinations and coves on the lake. During the summer months the clubís 26 ft sailboat "Wings", is used to train kids in boat handling and racing.
WYC holds membership meetings throughout the year. The WYC monthly newsletter "LAYLINE" is published the year around.
WYC Web site:
http://tahoewindjammers.tripod.com /index.html
Updated information of club activities can be obtained from the WYC information line at 530 542 1550.
WYC OFFICERS FOR 2005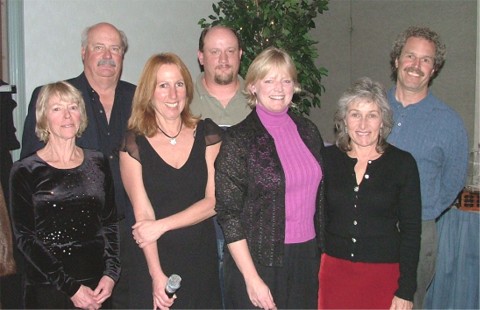 Front left: Lynn Wright, Debbie Noorda, Julie Parker, Michelle Langlois
Rear: Left: Don Newman, Ray Wilson, Kurt Rasmussen
Commodore Debbie Noorda (530) 541 3516
Vice Commodore Ray Wilson wilsontahoe@sbcglobal.net
Rear Commodore Kurt Rasmussen (530) 541 1129
Race Committee Kurt Rasmussen
Secretary Julie Parker (530) 577 3250
Treasurer Michelle Langlois
Past Commodore Lynn Wright
Member at Large Don Newman
Committees:
Cruising Fleet Captain Pam & Michael Adamson 530 542 0233
rumgay@juno.com
Membership Howard Stevens 775 972 5487
n6mte@intercomm.com
Publicity Steve Lannen 530 577 7613
beluga310@sbcglobal.net
Junior Program Diane Martin 530 577 7613
"Layline" Publisher Don Newman ltwyc2&aol.com
Web Master Vic Beelik vbeelik@aol.com